Who we are
Let's Go Bar Crawl Nashville!
Welcome to Nashville! Are you ready to have a good time? If so, join us for an exciting night of entertainment on a Nashville bar crawl. We'll take you to the best bars for live music and club-hopping with VIP club access. You'll party at four Nashville bars and Lower Broadway nightclubs. With a local guide to lead the way, you'll hear the best live music, meet new friends, and have a great time.
Join us for a great experience on a guided pub crawl where you never have to wait in line to pay a cover charge. As the premier tour operator for downtown Nashville, we offer VIP club access. With our contacts, we've been able to score exclusive drink specials for our guests. Gather your friends and join us for a night out on the town!
Are you planning a Nashville bachelorette party? Nashville is the bachelorette party capital of the US. If you want a fun party for everyone, including the party planner, let an experienced tour guide help you. Schedule a private pub tour, and we can customize your special night. Let us take care of the details, so all you have to do is show up and have fun.
The Nashville Nightlife Experience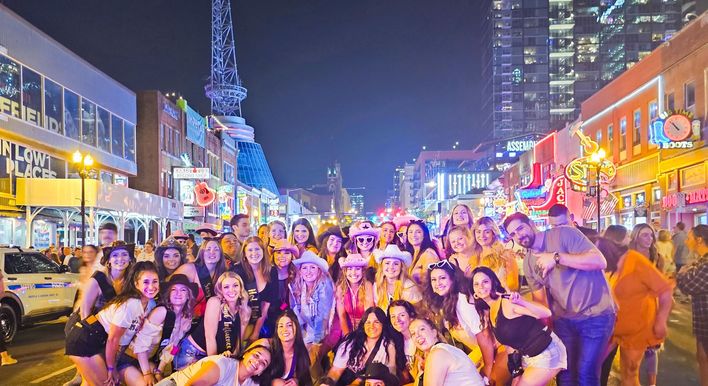 A Nashville Bar Crawl is the best way to visit the best Nashville bars & Nightclubs in one party in Nashville!
A Nashville Pub Crawl is the Nashville events you were looking for to visit the 4 best Lower Broadway Bars & Nightclubs in one night. There are tons of things to do in Nashville and a crazy Broadway party should definitely be way up on your list!
Every Nashville Bar Crawl visits the best Nashville bars & nightclubs in the Lower Broadway of Nashville with dozens of other people, Professional Party Hosts and exclusive drink specials and access that no one else receives.
Think of it like this: You buy a ticket to the Nashville VIP Bar & Club Crawl, you meet other people, get taken to the best Nashville bars with our Professional Hosts, receive included shots and drink specials, and don't have to worry about planning anything else.
We take the planning out of your hands.
*This is a GROUP experience, be prepared to meet others on the tour!
4 Reviews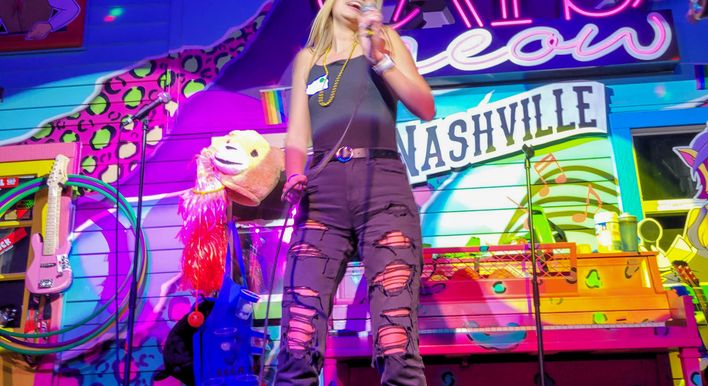 Nashville bachelorette party packages is the perfect way to make your bachelorette party a night to remember. It's your chance to celebrate with all your friends in a big way before you tie the knot.
At Crawl Nashville, you'll get VIP treatment so you can make sure you're having fun without worrying about anything else. We make sure everything goes smoothly so that when you look back on this weekend years from now (or even tomorrow), all you'll remember is how much fun it was.
We have everything you need to make your party unforgettable!
4 Reviews
Are you looking for a unique way to experience the best of Nashville's history while indulging in an adult beverage!?
Look no further than the Nashville Drinkers & Thinkers Pub Crawl!
This daytime walking tour offers the perfect blend of education and entertainment, giving you a one-of-a-kind glimpse into the rich history of Music City and the indulgence of delicious drinks at some of the city's most renowned bars and pubs.
Whether you're a history buff, a music lover, or just looking for a fun and unique way to experience Nashville, Nashville Drinkers & Thinkers is the tour for you.
3 Reviews
Nashville's Vip Bar And Pub Crawl
We are here to provide you and your friends with a VIP party experience. Our party hosts have over 13 years of experience running tours in Nashville and all over the world. With an experienced guide leading the way, you'll get our exclusive access on a party tour through downtown and lower Broadway.
Location
The Birthplace Of Country Music And More
No trip to Nashville would be complete without a visit to one of the first venues for live country music, the Ryman Theater. In 1943, radio station WSM moved its weekly music review, the Grand Ole Opry, to the Ryman Auditorium, where the popular show was held for 31 years. A new purpose-built building was constructed, and the Grand Oly Opry at Opryland became the new site for the weekly show in March 1974.
While Nashville is the birthplace of country music, the city earned the title of Music City with a broader genre of music styles. You'll find live performances of gospel, rock, blues, indie rock, and more. Be sure to step inside one of the many honky tonks in Nashville for drinks, dancing, and fun.
Frequently asked questions
Most frequent questions and answers
We accept Visa, Mastercard, Discover, and American Express. Your payment is encrypted and transmitted securely with an SSL protocol. PAY SAFELY WITH US.
Recent news

Welcome to Nashville, the bachelorette party capital of the US! While the bride has been busy with the wedding planning, her friends get the fun task of bachelorette party planning. Don't leave this important job up to chance. Plan ahead…

Nashville is more than a music city - this is a party city! Music legends have been discovered in the bars and night clubs in Nashville. Who knows, while you sit at the table enjoying a cold beer or cocktail,…

This is no stuffy town of quiet museums and high-brow classical music. Visiting the Music City is a fun experience with neon lights, foot stomping country music, good food, and cold beer. Daytime is for exploring legendary music row and…
Experience Nashville
.
Discover what Nashville night life has to offer
Excellent
406 Verified reviews